Diving Coach Prescription & Monitoring
What is the Athlete Management System?
The Athlete Management System (AMS) is web-based platform designed to capture information from a variety of sources including athlete training and competition data, health related information and administrative records among other things. The AMS allows staff that work with an athlete or a team to have real-time access to the relevant information related to their role to support performance-related decision making.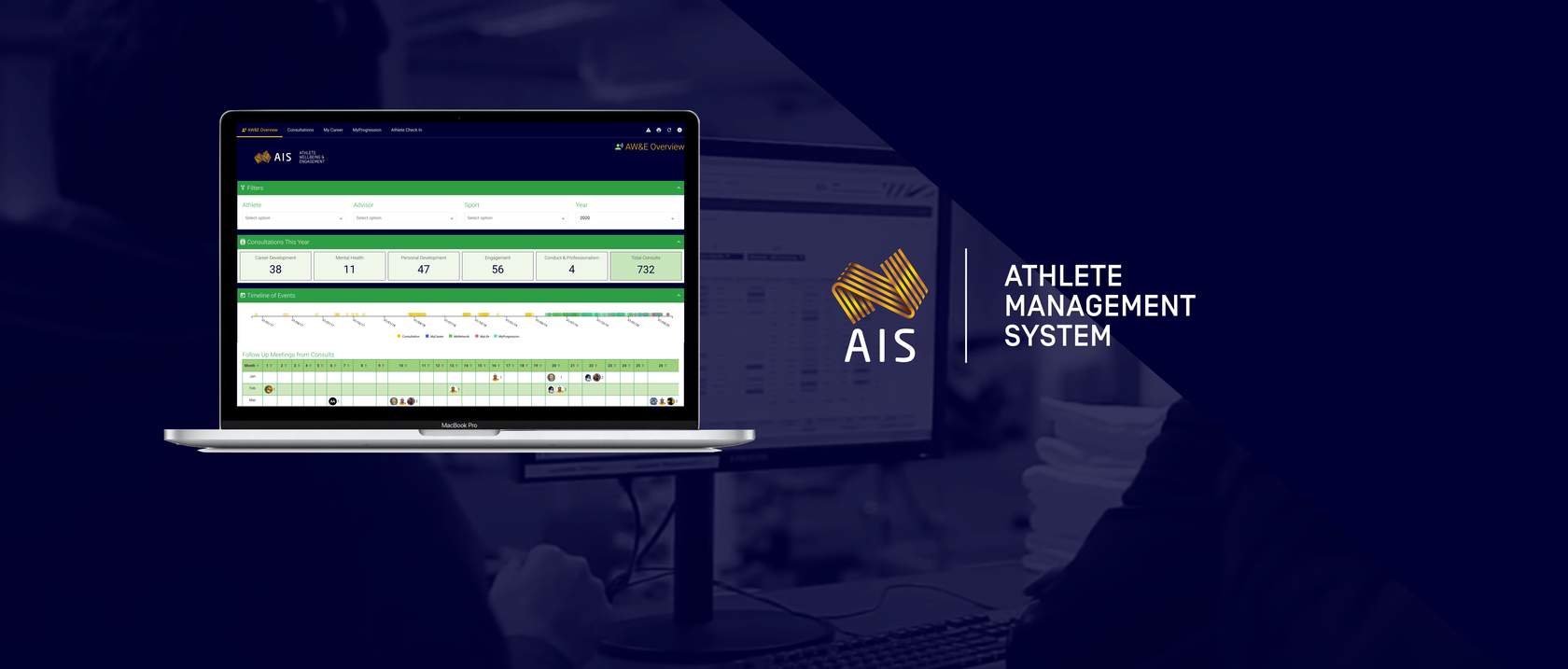 The Basics - Getting Started
Getting started on your computer. A web browser with internet connection is all you need to access the AMS. Chrome and Firefox are the recommended browsers.
Please note: Internet Explorer should not be used.
Logging In
Click the link below to head on over to the AMS Website on your computer or tabular device.
Open the link to the AMS. (See above)

Login using the username and password.

Verify your identity with the code sent to your mobile phone.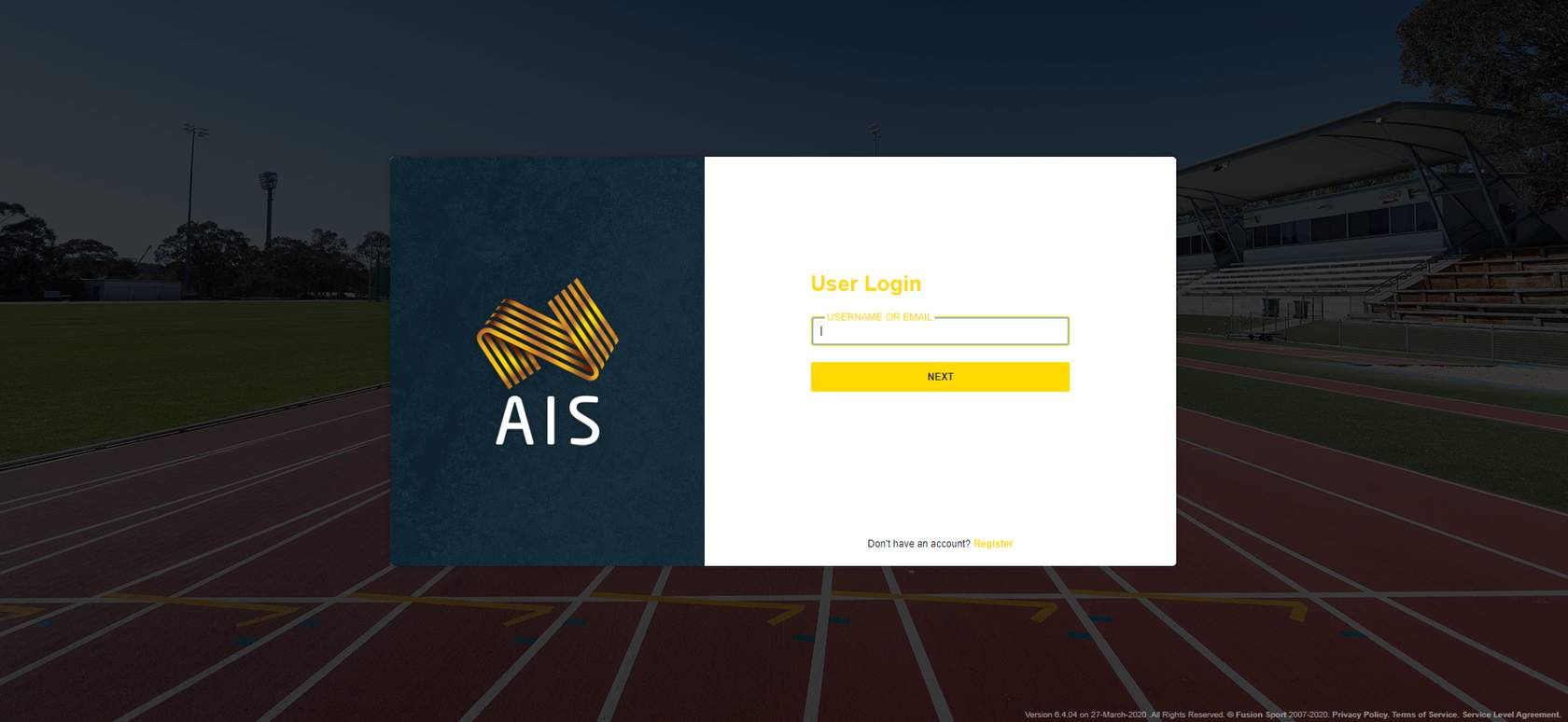 If you do not receive a validation code, you may need to have your contact details updated. Contact your sport's AMS contact or ams@ausport.gov.au
Terms and Conditions
As AMS holds the personal information and health information of users it is very important you acknowledge our responsibilities in protecting and use of this information. The AMS User Terms Privacy Notice will appear on first login. You must accept before accessing AMS.
Browser Navigation
Setup Favourite Events
Adding the events you wish to use frequently will improve the way you can access the information you need quicker
Click

Account at top of screen
Scroll down to

Favourite Events

and select events
Press

Save, and Enter your Password
Refresh

page to see changes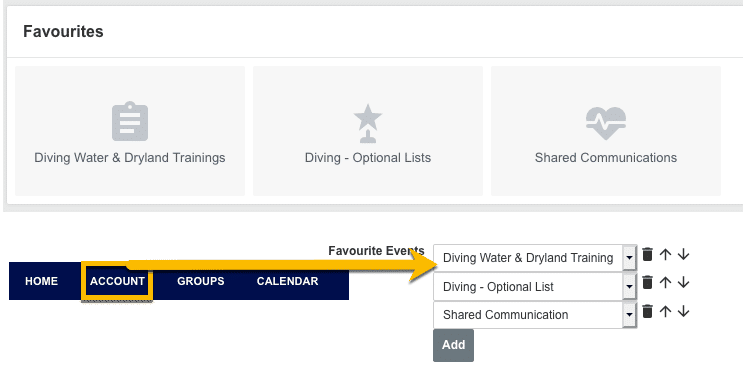 Adding or Updating Competition Dives
Below will explain how to add or update competition dives for your athletes.
This only needs to be completed initially or when their competition dive list changes.
Adding the Athlete Competition Dives
Adding the athletes competition dives into this form allows AMS automatically track the number of competition dive attempts when you prescribe Water & Dryland sessions

Example from Reporting Dashboard
Hover over

Data Entry

from the top of the home screen
Click

Enter Data for Athlete
Select the athlete you want to add the

Competition Dive List

for
Add the

Dives

by clicking in Dive column and searching for each dive from the available list. The additional columns will self populate after a dive is selected.
Click the

Add Competition Dive

button to add additional dives to the table if further rows are needed
Remember to Click

Save

at the bottom.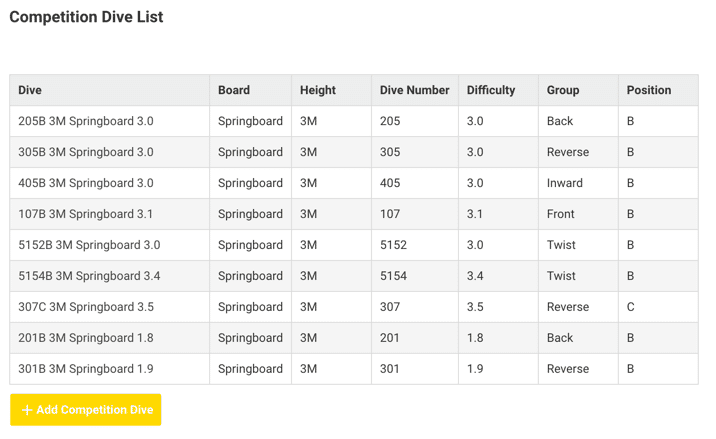 Example of completed competition list