Gymnastics Australia - Wellness & Training Load for Athletes
How to navigate Wellness and Training Load for Gymnastics on the Athlete Management System Application.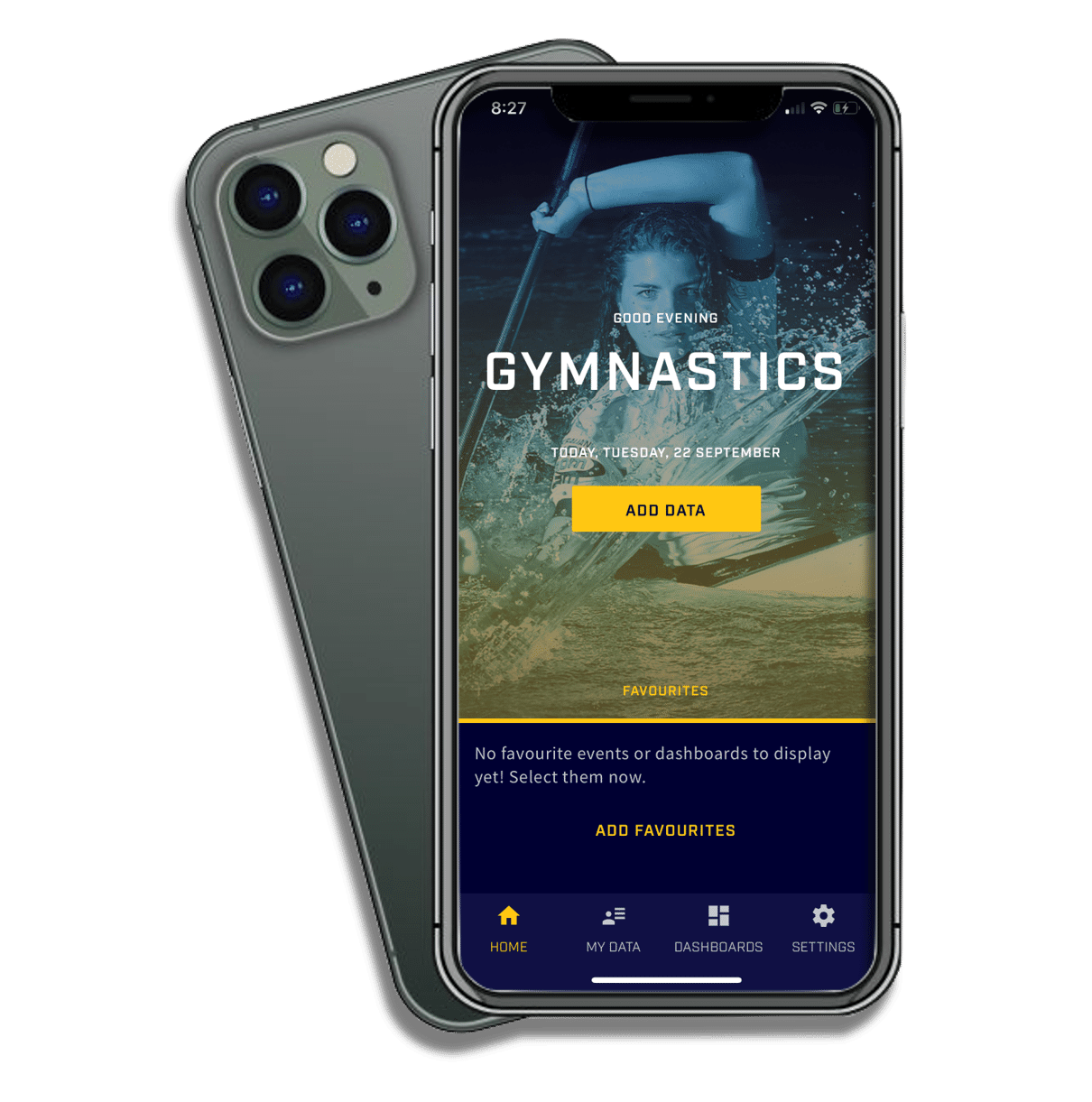 After installing the AMS Athlete APP and logging in, you will land on the home view, which is your default welcome screen on startup. The home view allows you quick access to add data or to navigate the menu.
Favourites – set up a quick link to enter Wellness and Training activities or create quick links to your most used dashboards.
Add Data - This takes you to a new data entry menu where you can select other entry forms in addition to your favourite forms.
Menu Items - The icons at the bottom of the screen allow you to access the other main views of the app including 'my data' in a calendar format, individualised Gymnastics dashboards and app settings.
Entering data is easy and can become a routine habit...
Data Entry Forms
The AMS Athlete App is designed for fast entry of wellness and training records. Links have been setup to allow entry from each view. The big yellow (ADD DATA) icon is the easiest and fastest way to enter a new record. Once you hit the yellow plus button you can then select from the available list of forms as to what type of entry you would like to add.
Calendar View
The Calendar View allows you to see an entire month on one screen. Selecting a day will show any recorded wellness and training or data entries in a list view under the calendar.
Yellow Dots – these indicate that there has been data entered for that day.
To see more days of the month, press the small yellow arrow and the calendar will expand.
The calendar lets you scroll month to month with a bright yellow circle on the selected day.
You are not allowed to enter records for days into the future, but you can add missing entries in the past.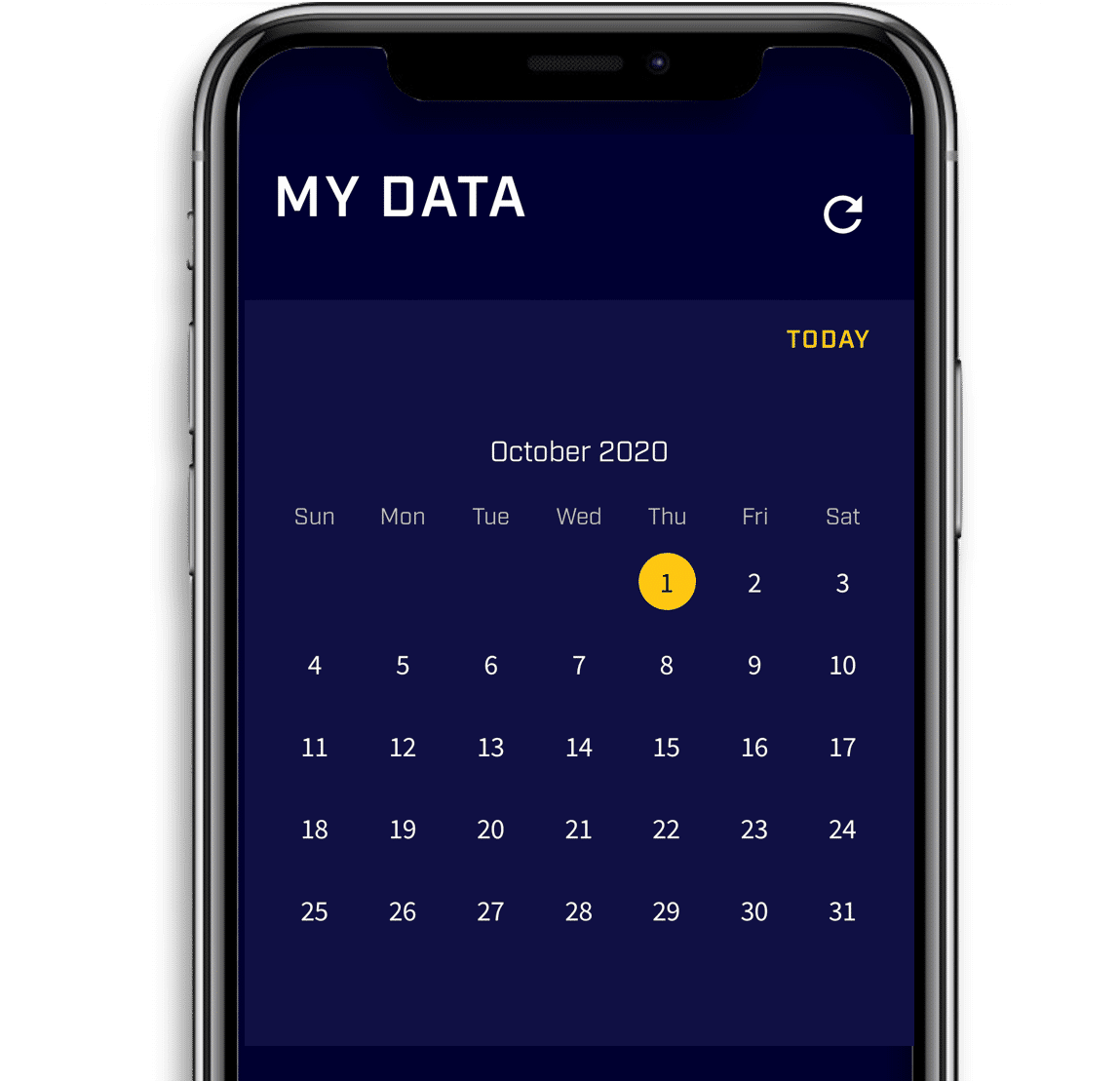 Drill Through
To view or edit a past entry, simply select it from the list view below the calendar and you will redirect to the specific wellness or training record, or other form. Select Edit to update the entry.
Missing Entries
The calendar is the easiest place for completing past or missing entries (although we highly recommend entries on the current day). Simply click on the day on the calendar and then select the big yellow (+) icon to enter a new wellness or training entry.
AMS WELLNESS ENTRY
This is where you can capture your overall health and wellbeing, how your body is feeling and how you slept. This form is filled out daily to ensure that the team can stay on top of any changes to your regular patterns. Start by entering your Stress/Recovery State with the slider then select the times that you went to bed and then woke up.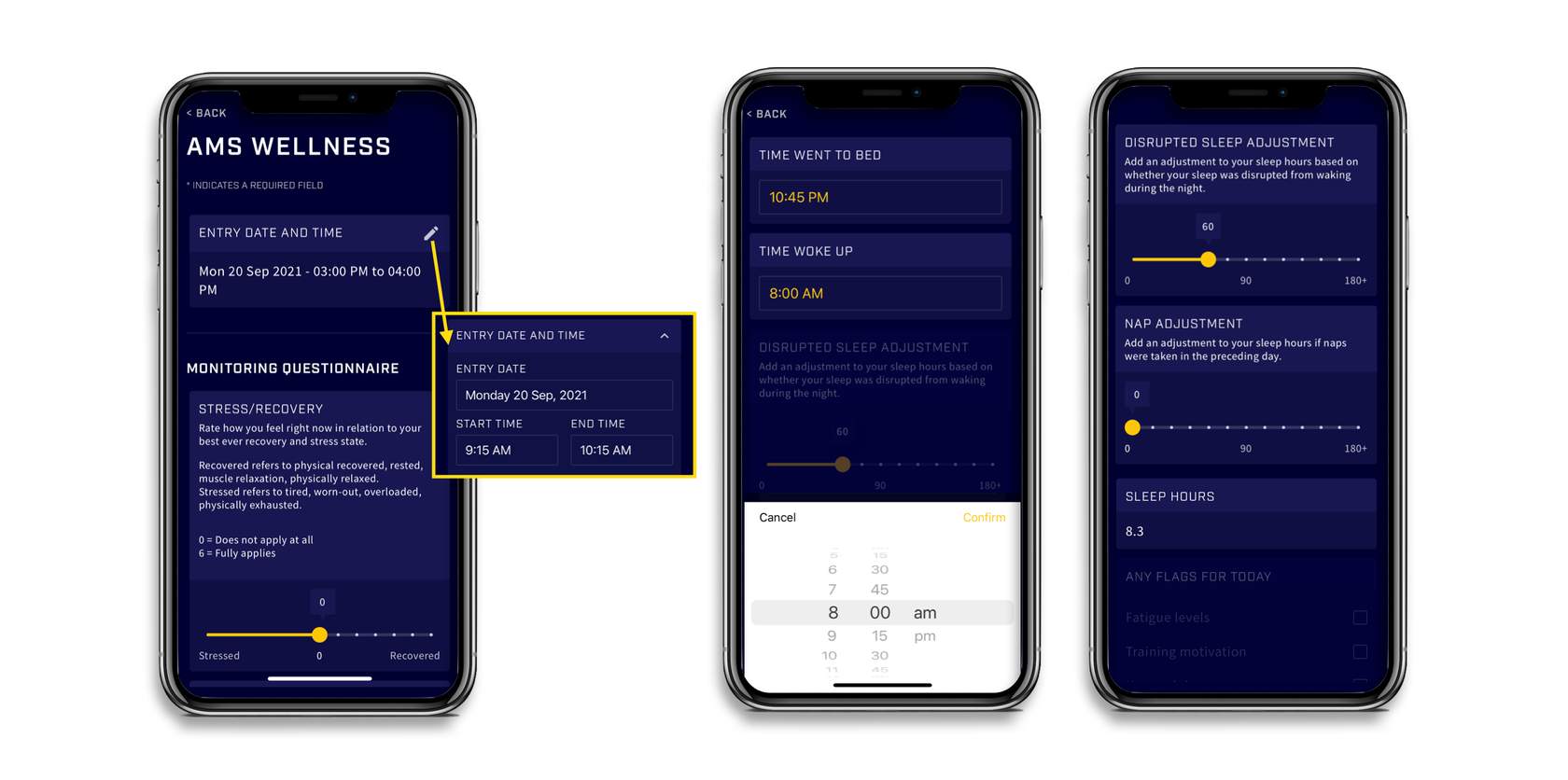 Notes:
Date:

Today's date and time is automatically selected for you. To edit or backdate your entry press the pencil 'edit' button.
Stress Recovery Scale:

Rate how you feel right now in relation to your best ever recovery and stress state. Recovered refers to physically recovered, rested, muscle relaxation, physically relaxed. Stressed refers to tired, worn‐out, overloaded, physically exhausted. Drag the sliders to enter your response. The tooltip will tell you exactly what value you are entering. (0 = Does not apply at all | 6 = Fully applies)
Sleep Times:

Use the drop-downs to enter both the time you went to bed and when you woke up. You will need to scroll to the time in hours and minutes (15min blocks) that best represents your sleep times. Ensure you have the am/pm correct. You sleep duration will be automatically calculated based off these times.
Secondly you have the opportunity to flag any health concerns. The flagging system will save you lots of time as you will only need to select them when it is necessary. If you are good, simply press submit.
Notes:
Flags

: If you need to flag any issues simply choose the relevant option. If you don't have anything to flag don't select any and simply press submit.

If you do select a flag, additional information will be needed for each type of flag and will appear accordingly, prompting you to fill it out.
General Comments

: Add any additional comments or feedback to go to your support team.
Other Flags

: If you can't find the flag you need to communicate to your support team you can enter it into the 'Other Flags' text box.
Flag Rating

: The rating is for the flag(s) you have selected in relation to its severity. For example, you may indicate that you have some sport-related fatigue, however you are still ok and able to train, or you have some soreness caused by cross training that is going to affect your training ability or performance.
GYMNASTICS TRAINING LOAD ENTRY
This is where you capture your daily training activity and status. To get the best results and insights from the data, this form should be completed daily, even on your rest days. One entry for each training session should be recorded. If you have two or more sessions in one day, you should enter data for each session.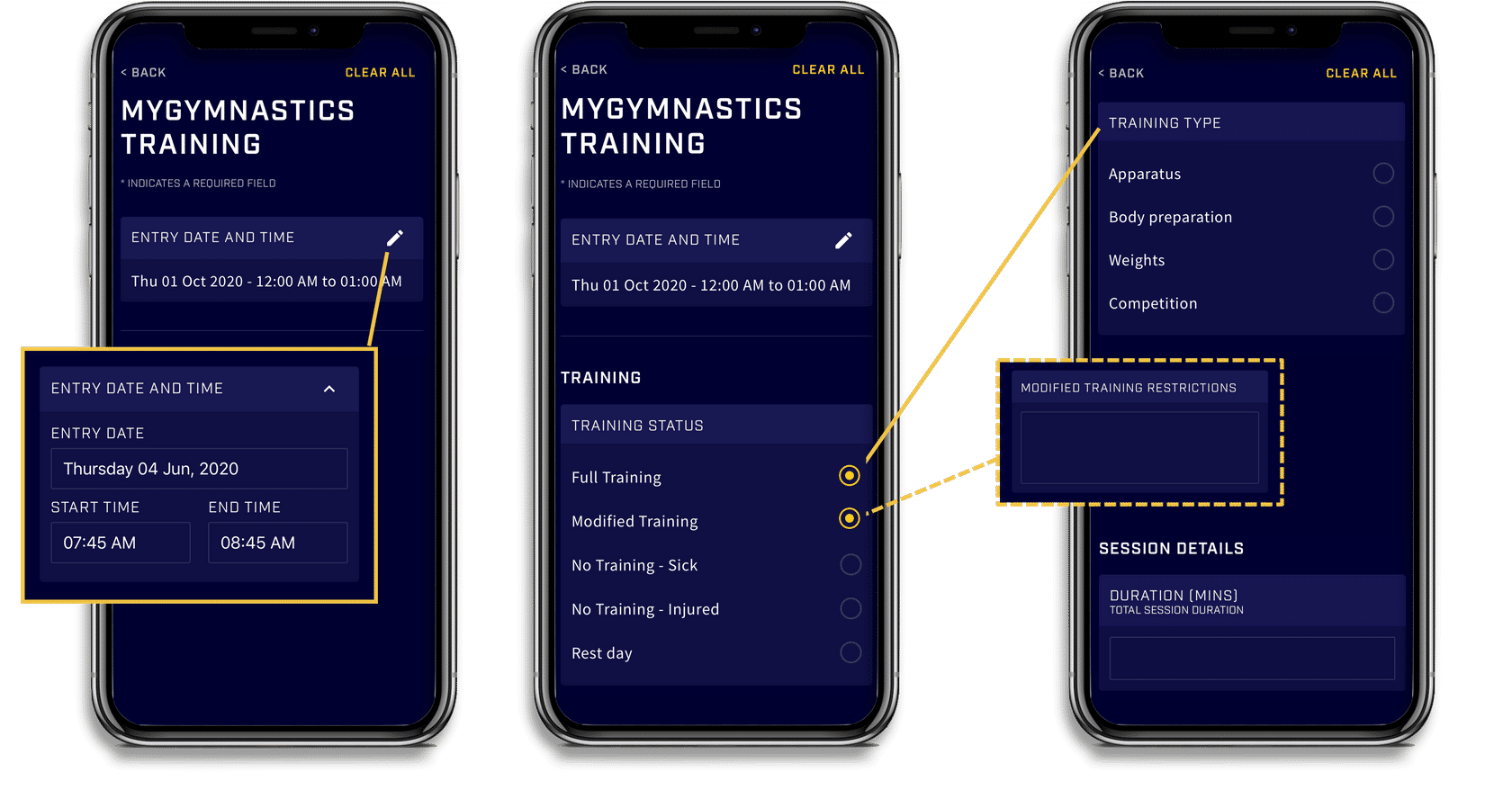 Training Status: Was your session modified at all or were you not able to train or perhaps a rest day? It is important to log your training EVERYDAY, including rest days. This will help determine correct loads and trends in your data.

Select your training status from the list.

Only one option can be selected. If you need to make a comment, there is a comment box further down the form.
Modified Training: If your training is modified and you have selected this option, an additional comment box will appear under 'training type'

Here you can make any notes on why your training was modified.

This can be due to an existing injury or niggle, feeling unwell or a prior external commitment. Make sure you note down WHY your training was modified.
Types of Training:

-Apparatus:

Select this option when the primary focus of your session is apparatus training.

-Body Preparation:

The body preparation option should be selected if you are training 'sport specific' conditioning. This can include drills and basics training, Types of Training as well as conditioning in the gym.

-Weight:

Use this option if you are lifting weights or working out in a fitness gym. This type of training relates to strength activity outside of the gymnasium.
Session Duration: Enter the duration of your session in minutes only. For example, your session is 2.5 hours. Enter this as 150
Selecting RPE: How hard was your session on the rate of perceived exertion scale?

0 = Rest | 10 = Maximal

Use the scale as a reference guide to determine how hard your training was.

Comments: Use the comment box to add in any relevant comments or notes about your training. This can relate to physical or mental aspects of your training.
Injury: Did an injury stop you from completing your full session? Or did you have to modify part way through training? If so, select 'Yes' under the question 'Did an injury unexpectedly affect this session'. This will prompt a secondary box to appear, select the appropriate status from the three options. In the 'Description of Incident' comment box, provide details for 'NEW' injuries or a short note on 'RECURRENT' or 'ONGOING NIGGLE'