SESSION: MERGING Garmin's to Existing Sessions
Merging Garmin's to Existing Sessions
The athlete via the app can automatically merge the Garmin file to the session
or
You can manually merge the file.
Random Garmin Files in your Calendar

Most of the GPS files will automatically assign to their session if you have preassigned an athlete and time for a session.
Files won't merge if
-you have forgotten to include an athlete in a session
-an athlete(s) undertakes the same session at a time earlier or later than what was planned in the calendar.
In these instances, the Garmin file cannot find an automatic place to merge and will therefore sit outside of any planned sessions in the club calendar
Merge Session - Go to List View

Top right of the screen
Click on the box highlighted in yellow
Will take you to a list view of all the sessions

Select the Session and the Unmerged Garmin
Tick the sessions you would like to merge
Needs to include the planned session
At least one, or more Garmin's that need to merge to that particular planned session.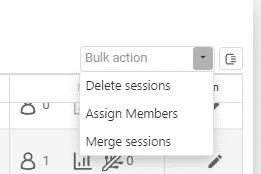 Go to top right of your screen
Bulk Action
Merge Sessions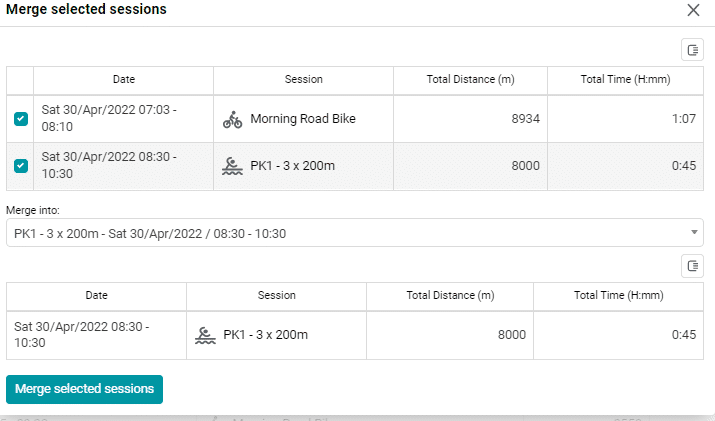 Click MERGE INTO
All ticked sessions will come up
Select the Planned Session
Then click merge selected sessions
Make sure you are happy with the Garmin files you want to Merge as Unmerging them is a bit of a process.
Always MERGE Garmin files INTO a PLANNED session. If you Merge your planned session into a Garmin file, the planned session will disappear off your Calendar and all athletes and Garmin files from that session would Merge into that particular Garmin file - it can be undone but is a bit of a cluster and takes a bit of time to do!!
Deleting a Session/Garmin
If you want to delete a session, Garmin, Multiple Garmin's then the process is the same and instead of hit Merge you hit delete. It will double check you want to delete the session.